THE USE OF SMALL GROUP VLOG VIDEO PROJECT TO INCREASE EFL STUDENTS CONFIDENCE IN ENGLISH PRESENTATION
Abstract views:
6
,
PDF downloads:
4
Keywords:
Small group, Vlog, Video Project, English
Abstract
Objective  Learning by utilizing technology has become a good alternative in the implementation of teaching and learning activities. The development of learning applications and platforms has also emerged massively to support effective learning, so teachers must be able to maximize the use of this technology in order to develop students' communication and English skills by applying interesting learning methods. One of the learning methods that teachers can apply in integrating technology is by asking students to make a vlog video project about everyday life. Therefore, this study aims to determine the use of the video vlog project method to increase students' confidence in making presentations in English.
Materials and Methods.  This study uses a qualitative method and uses a descriptive approach to determine the uses and benefits of using the video vlog project method to increase students' confidence in making presentations in English. Data was obtained through collecting various literature related to the use of video vlogs in the form of journals, articles and books. In addition, interviews were also used as a data collection method to three English teachers to find out their perceptions of applying the video vlog method. Data were analyzed through three stages namely, data reduction, data display and conclusion.
Results.  Learning English using video vlog project method provides different teaching compared to ordinary learning. Students become more independent in making assignments related to the theme of the English language being studied. In addition, by utilizing video vlogs students can improve their speaking skills through video practice they make, learning becomes more creative, students are more actively involved in conversations and have positive results in carrying out presentations using English. It is hoped that teachers can use this method more optimally to continue to encourage and improve students' English proficiency.
Conclusion.  The use of technology in learning English has become a necessity that must be applied in learning, not only because of the demands of the times but because of the advantages offered by the technology to support the learning process. Thus, the use of vlog video in learning can be utilized by teachers in teaching English because they have advantages that can encourage students to increase their confidence when presenting in English.
Downloads
Download data is not yet available.
References
Afrilliani, G., Sajidin., Darmalaksana, W., & Mulyana, A. (2020). The use of vlog to improve students' speaking skills: An Indonesian case. Beltic Journal, 17(2),531–539. https://doi.org/10.5220/0008220705310539

Arsyad, L., Akhmad, E., & Bayan, F. Al. (2021). Vlog as alternative media in teaching speaking for millenial learners. 4rd English Language and Literature International Conference (ELLiC), 4, 48–56.

Fitria, N., T., Uswatunnisa &Pattiasina, P., J. (2022). Non-Efl students's experience of speaking English: A project based learning in making video. AL-MUDDARIS: Journal of education, 5(1), 13-29. https://doi.org/10.32478/al-mudarris.v

Cresswell. (2013). Research design: Qualitative, quantitative, and mixed methods approaches. Sage Publication.

Ersan, M., Kurnia, F. D., & Fadilah, E. (2022). Improving students' speaking ability using vlog media at SMK negeri 1 Arjasa. Budapest International Research and Critics Institute (BIRCI-Journal), 5646–5656. https://doi.org/10.33258/birci.v5i1.4271

Faiza, D., Bestari, A. C. Y., & Mayekti, M. H. (2022). Students' perception of vlog as a self-learning media in speaking. Surakarta English and Literature Journal, 5(2), 90–104. https://doi.org/10.52429/selju.v5i2.7

Joko Prayudha, S. (2022). High school English teacher online teaching in rural place: Practices and strategies. Jurnal of English Development Vol, 2(02), 10–20.

Kurniawan, A., Wulandari, T., & Giofanny, A. V. (2022). The effect of vlog media on speaking skills for the elt students during the outbreak covid 19 pandemics. 10(2). https://doi.org/10.25273/etj.v10i2.14739

Liando, N. V. F., Lasut, S. F., & Rombepajung, P. (2022). Students' perception on the use of vlog as learning media for Ef speaking skill. Globish: An English-Indonesian Journal for English, Education, and Culture, 11(1), 1. https://doi.org/10.31000/globish.v11i1.5107

Miles, M. B., Huberman, A. M., & Saldana, J. (2013). Qualitative data analysis: A methods sourcebook. Sage Publications Incorporated. https://doi.org/https://doi.org/10.1080/10572252.2015.975966

Mufidah, Z., & Roifah, M. (2020). Prosodi: Junral Ilmu Bahasa Dan Sastra, 14(1), 45–56. https://journal.trunojoyo.ac.id/prosodi/article/view/7193/4454

Fidriani, Prastikawati & Adi. (2021). Video vlog as teaching media in improving the students' speaking ability in procedure text. Journal of English education and linguistics, 2(2), 37–49.

Prayudha, J. (2022). EFL students' perception on the use of social media platforms as learning tools. JETLi: Journal of English Teaching and Linguistics, 3(1), 1–9. https://doi.org/10.55616/jetli.v3i1.226

Prayudha, J. (2021). Utilizing tiktok app to attract EFL learners interested in learning English: Students' perspectives. ICLLLE: International Conference On Language, Linguistics, Literature and Education, 84–91.

Prayudha, J., & Malik, A. A. (2021). Efektivitas komunikasi terhadap proses belajar dalam pembelajaran online. DAWUH: Islamic Communication Journal, 2(1), 33–40.

Prayudha S., J. (2021). Video based learning as a media for teaching English during pandemic covid-19. Journal of Language Intelligence and Culture, 2(1), 1–11. https://doi.org/10.35719/jlic.v2i1.53

S, J. P., & Pradana, A. (2023). An analysis of Students ' difficulties in English conversation practice. Journal corner of education, linguistic and literature, 2(3), 215–222.

Sugiyono. (2014). Memahami Penelitian Kualitatif. Alfabeta.

Taqwa, A. , & Sandi, V. N. (2019). Students' experiences of using vlog to learn English. Journal of Foreign Languange Teaching and Learning, 4(1), 1–13. https://doi.org/10.18196/ftl.4134

Zed, M. (2004). Metode Penelitian Kepustakaan. Yayasan Obor Indonesia.

Zubaidi, Z., Suharto, R. P., & Rahayu, E. L. (2021). Improving students' speaking skill through students vlog project as PBL output on online speaking class. Briliant: Jurnal Riset Dan Konseptual, 6(4), 764. https://doi.org/10.28926/briliant.v6i4.757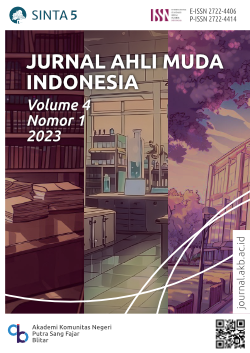 How to Cite
Joko Prayudha.S. (2023). THE USE OF SMALL GROUP VLOG VIDEO PROJECT TO INCREASE EFL STUDENTS CONFIDENCE IN ENGLISH PRESENTATION. JAMI: Jurnal Ahli Muda Indonesia, 4(1), 47 - 60. https://doi.org/10.46510/jami.v4i1.127
Copyright (c) 2023 Joko Prayudha.S
This work is licensed under a Creative Commons Attribution-ShareAlike 4.0 International License.
Authors who publish with this journal agree to the following terms:
1. Copyright on any article is retained by the author(s).
2. The author grants the journal, right of first publication with the work simultaneously licensed under a Creative Commons Attribution License that allows others to share the work with an acknowledgment of the work's authorship and initial publication in this journal.
3. Authors are able to enter into separate, additional contractual arrangements for the non-exclusive distribution of the journal's published version of the work (e.g., post it to an institutional repository or publish it in a book), with an acknowledgment of its initial publication in this journal.
4. Authors are permitted and encouraged to post their work online (e.g., in institutional repositories or on their website) prior to and during the submission process, as it can lead to productive exchanges, as well as earlier and greater citation of published work.
5. The article and any associated published material is distributed under the Creative Commons Attribution-ShareAlike 4.0 International License