BLUE OCEAN STRATEGY UNTUK PEMASARAN PRODUK NASI GORENG WARUNG AL-KIRAM DI BLITAR MENGGUNAKAN PENDEKATAN BAURAN PEMASARAN 4P
Adiguna Utama

Akademi Komunitas Negeri Putra Sang Fajar Blitar

Ika Rachmawati

Hindra Kurniawan
Abstract views:
8
,
PDF downloads:
17
Keywords:
Bisnis kuliner, red ocean market, bauran pemasaran, strategi pemasaran, blue ocean strategy
Abstract
Objektif. Nasi goreng merupakan salah satu kuliner yang sangat popular dan banyak digemari oleh masyarakat Indonesia. Kepopuleran nasi goreng membuat kuliner ini menjadi peluang bisnis yang sangat menjanjikan sehingga pasar kuliner nasi goreng, khususnya di wilayah Blitar sudah menjadi red ocean market, suatu kondisi yang dicirikan dengan banyaknya competitor yang menyediakan produk yang relative homogen. Bersaing dalam kondisi red ocean market menimbulkan risiko bisnis yang cukup besar bagi pelaku usaha. Oleh karena itu pelaku usaha sebaiknya memikirkan blue ocean strategy untuk mengoptimalkan keuntungan bisnisnya. Salah satu pendekatan yang bisa dilakukan untuk mendapatkan blue ocean strategy adalah dengan analisis bauran pemasaran 4P.
Material and Metode. Penelitian menggunakan data primer yang bersifat kuantitatif dari 50 orang responden yang berdomisili di wilayah Kota maupun Kabupaten Blitar. Metode pengumpulan data dilakukan dengan cara menyebar survei kepada responden. Preferensi konsumen diukur berdasarkan elemen – elemen yang ada dalam bauran pemasaran. Data yang didapat kemudian dianalisis dengan menggunakan teknik analisis data kuantitatif, yaitu statistik deskriptif.
Hasil. Berdasarkan hasil penelitian dapat disimpulkan bahwa blue ocean strategy dapat dilakukan dengan memberikan variasi menu nasi goreng yang sesuai dengan preferensi konsumen. Preferensi konsumen di wilayah Blitar adalah produk nasi goreng yang variatif, berkualitas, dan mereka bersedia membayar dengan harga yang lebih mahal daripada harga yang ada di pasar saat ini.
Kesimpulan. Preferensi konsumen nasi goreng di wilayah Blitar sudah bergeser dari anggapan pada umumnya yaitu bersedia membayar lebih mahal untuk produk nasi goreng yang variatif dan berkualitas sehingga blue ocean strategy bisa diterapkan.
Downloads
Download data is not yet available.
References
Agnihotri, A. (2015). Extending boundaries of Blue Ocean Strategy. Journal of Strategic Marketing, 24(6), 519–528. https://doi:10.1080/0965254x.2015.1069882
Alam, Samsul and Mohammad Tariqul Islam. (2017). Impact of Blue Ocean Strategy on Organizational Performance: A Literature Review Toward Implementation Logic. IOSR Journal of Business and Management, 19 (1), pp. 1-19.
Alghamdi, A. (2016). Market Knowledge, Blue Ocean Strategy, and Competitive Advantage (Direct and Indirect Relationships and Impact). Universal Journal Of Management. https://doi.org/10.13189/UJM.2016.040401.
Belanche, D., Casaló, L. V., Flavián, M., & Ibáñez-Sánchez, S. (2021). Understanding influencer marketing: The role of congruence between influencers, products and consumers. Journal of Business Research, 132, 186–195. https://doi:10.1016/j.jbusres.2021.03.06
Dewi, N. K. J. N. (2022). Nasi goreng: food and wine pairing. Jurnal Ilmiah Pariwisata Dan Bisnis, 1 (5), 1189 – 1204. https://doi.org/10.22334/paris.v1i5.83.
Dwi Narullia, Sheila Febriani Putri, Fitri Purnamasari, Dhika Maha Putri, Yana Respati Dewi, & Nila Cahayati. (2021). Sosialisasi Red Ocean Strategy Dan Blue Ocean Strategy Sebagai Upaya Meningkatkan Daya Saing Ukm Mahasiswa Di Kota Malang. J-ABDI: Jurnal Pengabdian Kepada Masyarakat, 1(7), 1453–1462. https://doi.org/10.53625/jabdi.v1i7.671
Gilaninia, S., Taleghani, M., & Azizi, N. (2013). Marketing Mix And Consumer Behavior. Kuwait chapter of Arabian Journal of Business & Management Review. https://doi.org/10.12816/0001270.
Gujral, M., Rauzela, M., & Chuchu, T. (2016). An Application of the Marketing Mix and Online Marketing as a Business Strategy for SMME Cafes in South Africa. Journal of Economics and Behavioral Studies, 8, 14-25.
Kim, W. Chan dan Renee Mauborgne. (2015). Blue Ocean Strategy with Harvard Business Review Classic Articles "Blue Ocean Leadership" and "Red Ocean Traps". Massachusetts: Harvard Business School Publishing Corporation.
Kim, W. Chan dan Renee Mauborgne. (2017). Blue Ocean Shift: Beyond Competing—Proven Steps To Inspire Confidence And Seize New Growth. London: Hachette UK.
Kotler, Philip dan Gary Armstrong. (2016). Principles of Marketing 16th edition. London: Pearson Education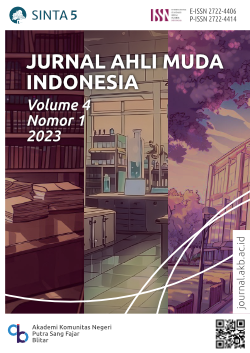 How to Cite
Utama, A., Rachmawati, I., & Kurniawan, H. (2023). BLUE OCEAN STRATEGY UNTUK PEMASARAN PRODUK NASI GORENG WARUNG AL-KIRAM DI BLITAR MENGGUNAKAN PENDEKATAN BAURAN PEMASARAN 4P. JAMI: Jurnal Ahli Muda Indonesia, 4(1), 38 - 45. https://doi.org/10.46510/jami.v4i1.144
Copyright (c) 2023 Adiguna Utama, Ika Rachmawati, Hindra Kurniawan
This work is licensed under a Creative Commons Attribution-ShareAlike 4.0 International License.
Authors who publish with this journal agree to the following terms:
1. Copyright on any article is retained by the author(s).
2. The author grants the journal, right of first publication with the work simultaneously licensed under a Creative Commons Attribution License that allows others to share the work with an acknowledgment of the work's authorship and initial publication in this journal.
3. Authors are able to enter into separate, additional contractual arrangements for the non-exclusive distribution of the journal's published version of the work (e.g., post it to an institutional repository or publish it in a book), with an acknowledgment of its initial publication in this journal.
4. Authors are permitted and encouraged to post their work online (e.g., in institutional repositories or on their website) prior to and during the submission process, as it can lead to productive exchanges, as well as earlier and greater citation of published work.
5. The article and any associated published material is distributed under the Creative Commons Attribution-ShareAlike 4.0 International License